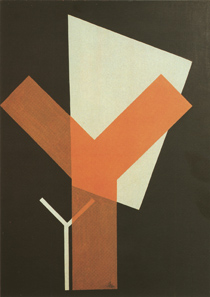 Anton Stankowski
Mother and Child, 1929
Oil on canvas
60 x 42 cm
Early Panel Paintings, 1929 to 1939

For Stankowski, there was a flow among graphic design, fine arts design, and painting: "Things connected with each other, for me. I've always done paintings and drawings, but it wasn't as if I said, 'I'm an artist, I'm a painter.'" His early paintings were done during lunchtimes at the Atelier Dalang in Zurich, or in the evenings, at home. Similar to his works on paper, the paintings are structural visual compositions with lines and surfaces, the relation between surfaces and perspectives, form, symbols. What was at the start an intuitive discovery of form was followed by a language of form that became increasingly austere. He certainly made parallel attempts with amorphous figures, which, however, decreased in number as time went by. Stankowski did his first autonomous paintings in 1929 for a show planned by a Zurich group known as "Die Augen" (The eyes). A motif, "Mother and Child," is one of five works Stankowski completed for the show. It is already possible to recognize his vision of space. The significance of his works does not lie in a particular visual formula, but in the way he breaks out of formality through continuously new visual ideas. And yet he developed his own "signature" quite early on. What seems to be a contradiction is refuted by the richness of his work.

Early Panel Paintings, 1929 to 1939
Curator: Stephan von Wiese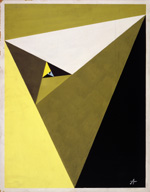 Anton Stankowski
Triad, 1939
Mixed media on pressboard
65 x 50 cm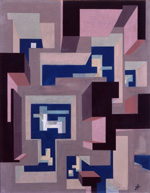 Anton Stankowski
Penetrated Walls, 1938
Mixed media on pressboard
65 x 50 cm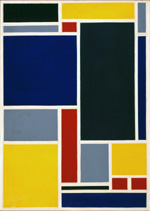 Anton Stankowski
With White Contours/Like Mondrian, 1930
Oil on pressboard
59 x 42 cm