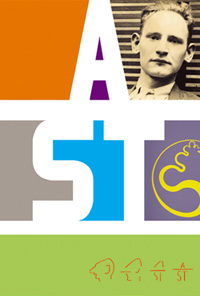 Stankowski
Aspects of His Complete Oeuvre
Internationales Design Zentrum Berlin e.V.
12. May – 12. August 2007
Mies van der Rohe Haus, Berlin
26. May – 19. August 2007

Neues Museum Weserburg Bremen
24. February – 22. April 2007

Josef-Albers-Museum, Bottrop
19. November 2006 – 11. February 2007
Haus Konstruktiv, Zurich
25. August – 29. October, 2006
Staatsgalerie Stuttgart,
8. April – 2. July, 2006
In honor of Anton Stankowski's 100th birthday (1906–1998), a grand retrospective provides a comprehensive view of his art and graphic design.
Stankowski's oeuvre is impressive, thanks to its use of multiple media, ranging from photography and painting to graphic design, which contributed considerably to the visual image of the Federal Republic of Germany. Here, we will give you a brief idea of the various locations and fields in which Stankowski lived and worked. We will attempt to describe the plurality of his work, to point out common traits in his work and the way he visualized content. For Stankowski, there was no difference between the fine and applied arts. Both permeated his work. All of the works here are representative of many others.
For further information and more visual material, please go to the press pages. The contents of this site are based on the exhibition concept and the catalogue, published by Hatje Cantz. Ten curators examine different aspects of the artist's work. The exhibition, which will be seen at several locations, not only provides an assessment of Stankowski's work, but also guides the viewer along the path to rediscovery. This is the first time that many of the works will be seen in public. Stankowski's solutions for design problems remain valid to this day, and his undogmatic approach to the invention of form is still refreshingly surprising.

Links_______________________
IDZ.de
miesvanderrohehaus.de
Stankowski-Foundation
Stankowski + Duschek
Poster Gallery
More
A Look in the Exhibiton
More

Curators
Works on Paper, 1927 to 1939
Ulrike Gauss, Kassandra Nakas

The Design Theory
Peter von Kornatzki

Pre-war Commercial Prints
Jörg Stürzebecher

Early Panel Paintings 1929 to 1939
Stephan von Wiese

The Posters
René Grohnert

Photography
Ulrike Gauss, Kassandra Nakas

"The Obliques" – from the 1931
Flyer to the Visual Objects of the 1980s
Stephan von Wiese
Functional Graphics
Werner Meyer

Post-war Logos and Graphic Design
Karl Duschek

Serial Sculptures and Design in the Public Space
Karl Duschek

Paintings from the 1950s to the 1990s
Ursula Zeller

The Sketchbooks
Werner Meyer, Annett Reckert