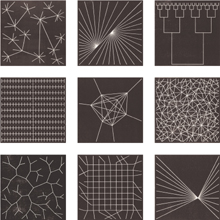 Anton Stankowski
Lino cuts, 1961
Growing, bi-polar, two-part, regular, running from outside to inside, coincidental, (vegetative), coordinated and central connections.
Functional Graphics
To explain ideas, insights, and terms, to make it easier to understand things and thus make objects and processes comprehensible: this task is becoming ever more important to visual communications. Stankowski's special strength lay in his ability to make terms and functions not easily illustrated accessible via visual methods, anyway. This is where he felt challenged, and he applied his systematic way of thinking, in order to occasionally break out if it, too. For him, an unpredictable deviation from the path led to an attractive, irrational effect. In a standard work for graphic artists, Visuelle Kommunikation, which Stankowski and his partner Karl Duschek first published in 1994 — and which is now in its third printing — there are many examples of ways to create designs for terms that are not readily illustrated. The functional graphics reflect a cornucopia of ideas, making it a pleasure to leaf through the book. Congratulations, time, order, and encounter are just some of the terms visualized in it. Stankowski used many of these functional graphics for his clients, and depicted technical problems in this way. He created numerous images on the topic of warmth for the Viessmann Company, many variations on news reporting technology for SEL, as well as on themes he chose himself. Stankowski created his own iconography with an aesthetic charm of its own, which can be understood around the world.
Functional Graphics
Curator: Werner Meyer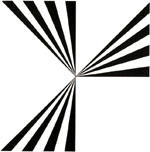 Anton Stankowski
SEL trademark, 1954
All news reporting technology,
obvious reference to the function of "radio," of transmitting and receiving.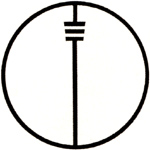 Anton Stankowski
Trademark, 1954
Süddeutscher Rundfunk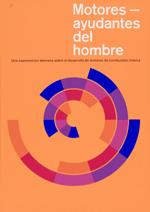 Anton Stankowski
Exhibition poster,
Institut für Auslandsbeziehungen,
Stuttgart
1957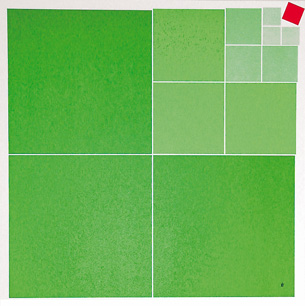 Anton Stankowski
Systematic planning
Viessmann calendar page
1964, Offset print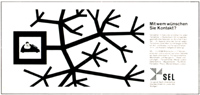 Anton Stankowski
SEL newspaper insert
News reporting technology, 1962
All news reporting technology,
connections everywhere.